This is not the post I was going to write today. I was going to post up a scarf pattern. But then something happened that I wanted to share.
A couple of nights ago there was a posting on
Freecycle
for assorted knitting and crochet supplies. Having been broke for a while now, and With Christmas fast approaching, I thought I'd see what she had and wrote a (rather silly) little email telling her that I'd take it off her hands. She agreed with the caveat that anything I didn't want would be posted on Freecycle.
So yesterday I took off into a lovely fall day, walking up to Concord and then taking BART to Rockridge, which is just south of Berkeley. I crocheted on my poinsettia afghan on the train and wandered a bit when I got off. I was only a little bit lost, but wandering in that part of town is quite nice. (I was the lady in denim, sneakers, and a funky purple crochet hat if anyone saw me.)
The bag was smaller than I'd hoped (I think we all hope for that motherlode of cast-off yarn) but I was still grateful for the walk and the day and if nothing else the knitting needles would have cost more than my train ticket. I managed to resist peeking and crocheted all the way back to Concord, idly listening to the engineers in the next seat talking about landslide damage to a house.
When I got home I opened the bags and found the aforementioned knitting needles, a couple of WIPs, and some interesting yarn and notions that may well date back to the 60's. I felt like I'd been handed a little piece of someone's life.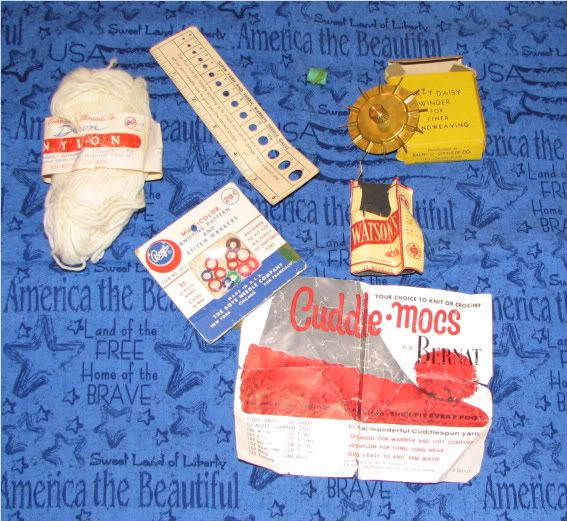 I was most intrigued by this doodad, the "Crazy Daisy Winder for Finer Handweaving" which was in its original box but sadly had no instructions at all.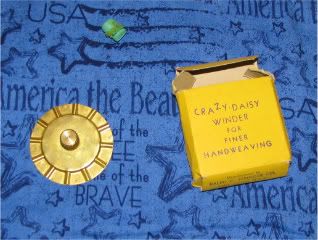 I couldn't for the life of me think of what it was for. When I think of a "winder" I think ball-winder, possibly because I want one. Turning the knurled knob in the center caused rays to extend from the raised flutes on the disc, which was delightfully arcane but didn't elucidate the gadget's use. So I did what any sane woman would do: I asked Ravelry, specifically the
Thrifty Knitters
group. If anyone knew what to do with this device it would be them.
Now I'm going to take you on a little flashback. When I was a child my paternal grandmother had a bedroom that my younger sister and I slept in when we visited her. (She also had a statue of Michelangelo's
David
in her front parlor, but that's another story altogether.) The room held a pair of twin beds and a mirrored dresser, and the coverlets on those beds were made of looped yarn daisies. They were visually fascinating, even my mother didn't know how they were made (I remember asking her once a long time ago) but we'd always assumed they were handmade by either Grandma Velasquez or her own mother; Great-grandma Maestas being a great crocheter.
Grandma V and her youngest daughter, my Aunt Beverly, were killed in a horrific crash in Mexico on New Years of 1993. Grandma had been widowed in the Fifties and Bev had been divorced for years so they often traveled together. This time they'd gone to the Yucatan for Christmas. I was sixteen years old at the time.
I can only assume that my Aunt Karen or Uncle Jim inherited those bedspreads. Certainly I'd not seen nor thought of them in years until last week when I was avoiding my Christmas crocheting by flipping through patterns on Ravelry. I suddenly had the idea that now that I'm getting rather thoroughly grounded in yarn arts I should figure out how to recreate those daisies that were on our beds at Grandmas and perhaps make something for the children that never knew their great-grandmother. Me being me, I eventually went back to my hooking and promptly forgot all about it.
You see where this is going, don't you? I, of course, am oblivious. When the other Ravelers told me what my mysterious "winder" is for it hit me upside the head like a Mack truck. You guessed it. It's for making those daisies.
I stared at the reply to my post (the thread is
here
if you have a Rav account) in shock for a moment and then broke into ragged, tearing sobs. I'm sure if anyone could have heard me it would have sounded like my heart was breaking. I just couldn't stop. In fact, it's been hours and numerous cups of tea later and I'm still tearing up as I write this. There is just no way to put into words the feelings I'm having: joy and sorrow, grief and hope, love and gratitude and awe in the mysteries of the universe that none of us will solve this side of the veil.
All I can say is this: thank you to Nancy for passing along these treasures to me. I will love them and use them as if they were from my own family. And to Grandma and Bev...I love you.
And to anyone reading this: God and Goddess bless all of you these holidays and for the whole year through.
Love,
Maria